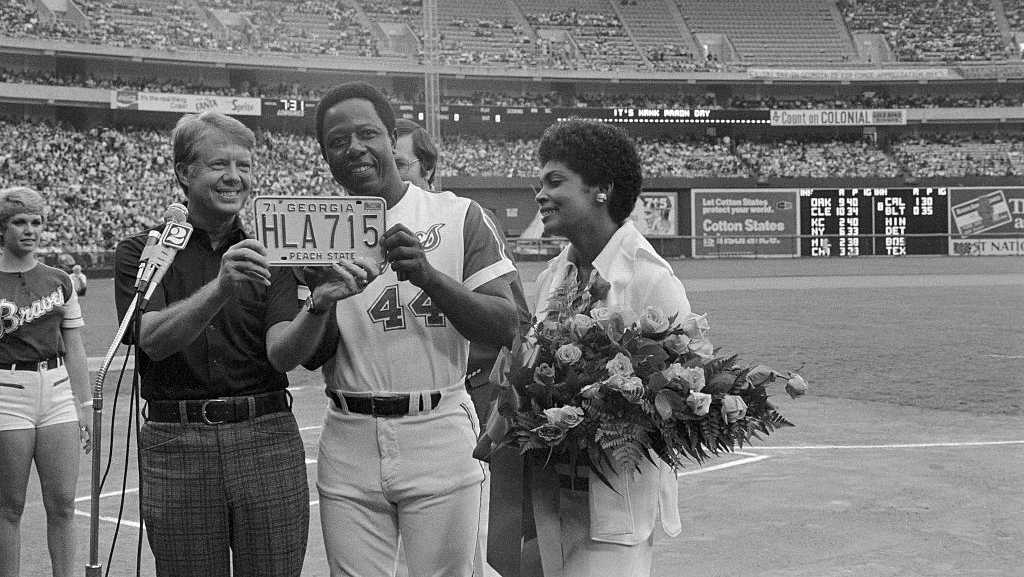 Braves outfielder Hank Aaron passes (April 8, 1974) Babe Ruth as the all-time home run leader with his 715th, going deep in the fourth inning off Dodger hurler Al Downing in Atlanta's home opener. 'Hammerin' Hank' equaled the Bambino's mark on Opening Day in Cincinnati.
I loved listening to Milo Hamilton broadcast the Atlanta Braves games. I never enjoyed hearing him so much as this amazing day. I can still hear him announce Hank Aaron's 715th home run, breaking Babe Ruth's record.
Henry Aaron in the second inning walked and scored. He's sittin' on 714. Here's the pitch by Downing. Swinging. There's a drive into left-center field! That ball is gonna be … outta here! It's gone! It's 715! There's a new home run champion of all time, and it's Henry Aaron!"  – Milo Hamilton, April 8, 1974
Al Downing, the pitcher for the Dodgers, drew the honor of serving up the home run pitch. The first time he faced Hank that night, he walked him. Can't blame him for that. There is some honor in escaping the evening untarnished. But he couldn't hide for long. They both wore number 44 that night.
I was first introduced to him by [to Hank byYankees catcher] Elston Howard in Spring Training in 1963, in Florida. "The Braves were in West Palm Beach. I remember Elston introducing us and thinking, 'This is the nicest, most gracious guy for a superstar.' Hank never really changed.

I walked him first time up, and everybody booed me. It was the second pitch [in a 1-0 count], and I was trying to get the double play. I wanted to get a fastball down in the strike zone, hoping he'd roll over. It was elevated — and 'The Hammer' put the hammer on it. ~~Al Downing
Davey Lopez was playing second base for the Dodgers that evening.
It couldn't have worked out any better, really. Al is such a secure person, he understood the big picture. It was like when Rickey Henderson was Nolan Ryan's 5,000th strikeout victim. Rickey embraced it. Al was never bothered at all by being part of Hank's big moment. ~~Davey Lopez
And so magic happened that night. I remember the joy I felt for Hank. He had done something we thought no one would ever be able to do. He did it for himself but it also did a lot for Atlanta.